Back to Home


Published by Severn House 2010
NOTE: This book has gone out of print. A new print edition will be available soon.
(#8 in the Akitada series)
Eleventh-century Japan: Government official Sugawara Akitada is on his way home to the capital of Heian-Kyo when he finds a small mute boy on a deserted road. Akitada, still grieving for his own small son, opens his arms to the child. The search for the boy's parents uncovers a harrowing story of love, murder and abandonment, distracting Akitada from his own troubles, but putting his career and reputation at risk.
Meanwhile, Akitada's faithful servant Tora has troubles of his own: he has lost his new bride to a powerful man who pursues beautiful women and will stop at nothing to possess them.
The trails of these two seemingly unrelated cases lead Akitada and Tora to the entertainers and prostitutes of the amusement quarter, and murder follows in their footsteps . . .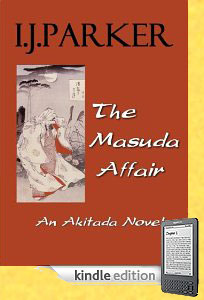 ---
Publishers Weekly: The Masuda Affair: A Sugawara Akitada Mystery
I.J. Parker, Severn, $28.95 (320p) ISBN 978-0-7278-6925-8
More than half of Parker's terrific seventh historical set in 11th-century Japan (after 2009's The Convict's Sword) goes by before Sugawara Akitada, senior secretary in the ministry of justice, has a definite murder to solve, but a personal crisis in Sugawara's life--the death of his young son, Yori, from smallpox--more than sustains interest, providing the trigger for a series of events that involve him in the case of Peony, a courtesan whose drowning years earlier was ruled a suicide. On the first night of a festival when the spirits of the dead return home, Sugawara meets an emaciated abandoned child who reminds him of Yori. His efforts to rescue the boy from the abusive people claiming to be his parents land him in trouble with the law and entangle him in the secrets of the noble Masuda family, reputed to be the subject of a curse. The evolving relationship between Sugawara and his wife, Tamako, adds depth. (Nov.)
Library Journal: Parker, I.J. The Masuda Affair: A Sugawara Akitada Novel
Severn House. Nov. 2010. 320p. ISBN 9780727869258. $28.95.
In his seventh appearance (after The Convict's Sword), government official Sugawara Akitada is returning home when he finds a small, half-naked boy, starved and beaten. Earlier that year, his four-year-old son had died in the plague that ravaged Heian-Kyo (now Kyoto). But helping the boy find his parents becomes an impossible task when Sugawara is accused of improper behavior with the boy. VERDICT Once again Parker has written a moving and beautiful tale, this time involving parental love and loss of a child. His depiction of an 11th-century Japan as a brutal society in which one's fortune is made or lost on the whim of the most powerful will appeal to historical fiction fans and readers who enjoy Laura Joh Rowland.